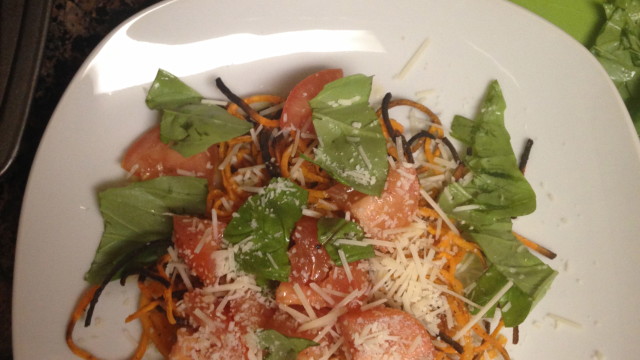 Caprese Style Sweet Potato Pasta
I live in an apartment with a small balcony. I did not however let that stand in my way of exploring my inner green thumb! Over the weekend, I started my own mini herb garden. As you can see it is a work in progress. I plan to give each of my herbs a nice home (pot) and maybe even hang a few from the slide railing. We'll see!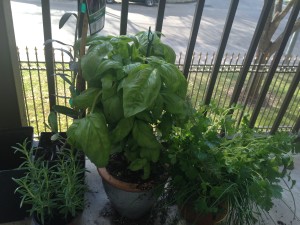 I started it because I really want to use fresh herbs in my cooking whenever possible. I find myself constantly buying the fresh packed herbs in the veggie isle of H.E.B, only to later groan when I realize the price at the check out counter. Why pay $4 bucks for a pack of basil when I can grow it myself!?
So here I am, super giddy about my new basil plant and thinking, "why do I all of sudden have no idea what to make with basil?" Oh yeah, duh. Go with a caprese salad. But of course you know me, I have to do something different with it. So to continue on with my veggie spiraling kick, I bring to you my Caprese Style Sweet Potato Pasta.
The "caprese portion" of this pasta is inspired by a recipe I found in the Food Network Magazine, courtesy of Joe and Jill Biden. I think you will love this VP-inspired dish. It is light, zesty, sweet with a slight crunch from the baked sweet potato pasta. You can also pan fry/cook your pasta, but I love the crunchy ends, so I went that way. Here's all you need to make it.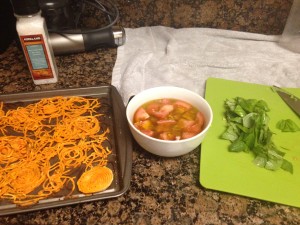 and here is the final product!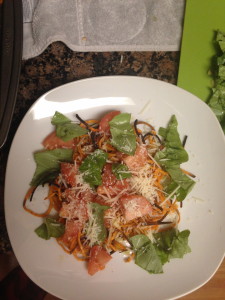 Ingredients (Serves about 6-8)
1/3 cup extra-virgin olive oil
1/4 cup fresh lemon juice
1 shallot, minced
1 small clove garlic, minced
Sea salt and pepper grounded to taste
2-3 cups of cubed tomatoes
3 large sweet potato pasta, peeled and spiraled with Blade C of the Paderno Slider.

If you need any guidance on how to spiral your veggies, check out the Inspiralized website.

Fresh mozzarella cheese (shredded or fresh balls, up to you on the amount)
1/2 cup fresh basil
1/2 teaspoon grated lemon zest
Instructions 
Preheat your oven to 450 degrees.
Whisk together the olive oil, lemon juice, shallot, garlic, salt and pepper.

In the Jill and Joe Biden recipe, they recommend adding a bit of sugar depending on the sweetness of your tomatoes. I personally did not add them because you will get a lot of sweetness from the sweet potato pasta.

Add your cubed tomatoes to the mixture and let them marinate for 15 minutes.
Spread out your sweet potato pasta evenly on 2 baking sheets and lightly coat them with olive oil, salt and pepper. Bake for 17-20 minutes.
Once the pasta is done, place it in a pot (no need to turn the stove on, but if you want you can do low heat), add the tomato mixture and cheese and toss. Then stir in your basil and a bit of lemon zest, with extra salt and pepper to taste. If you only have shredded cheese, sprinkle it on top last.
Buon appetito!