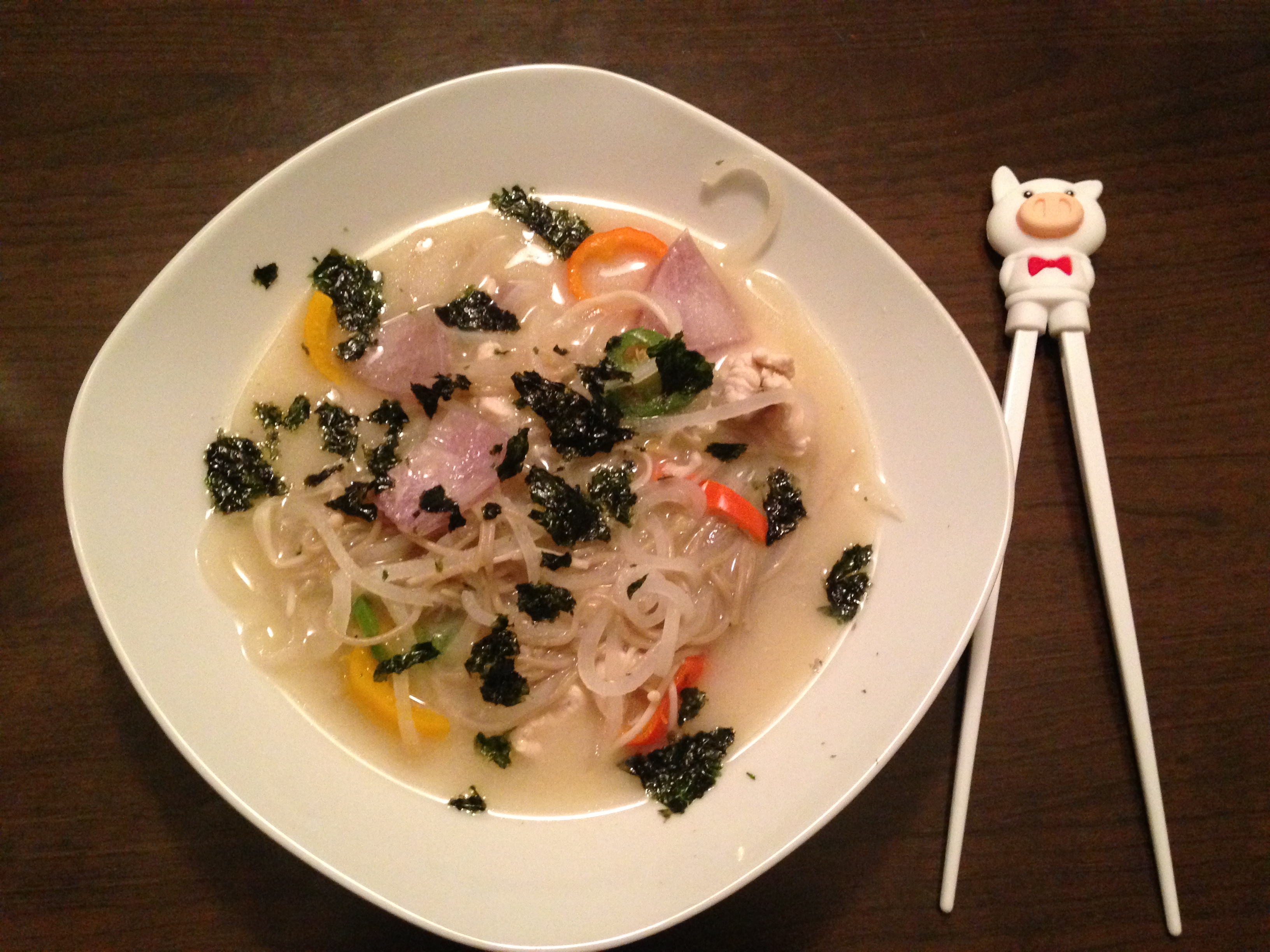 Miso Soup with Chicken & Daikon Radish Noodles
I made a number of grand resolutions for 2015. Two of which were to 1) start eating healthier and 2) revive my blog. Well here's to hitting two birds with one stone! Anyone ever notice how violent that expression is? Help me out with a new one that expresses the same sentiment!
I have never been one for extreme dieting. Life is too short to be unhappy and I refuse to deprive myself of delicious food. With that said, I started to explore ways to make healthy dishes that pack amazing flavor and don't leave you feeling hungry. I soon discovered an amazing entrepreneur, Ali Maffucci, Founder of Inspiralized who did just that. Her goal is to turn vegetables into healthy, creative and satisfying meals. How does she do that? She uses a vegetable spiraling tool (see the one I use, available on Amazon) and offers recipes utilizing all kinds of vegetables on her website. You can turn vegetables into spaghetti, linguini, rice and so much more.  Her blog has exploded in popularity; she just released her own recipe book and has her own branded "Inspiralize" machine, which is very similar to the one I bought (which she recommended on her blog before branding her own) with a few serious enhancements, some of which include, a stronger base to hold it firmly to the table, no loose blades to pop in/out, and better safety features. If my blog/recipes inspire you, I would buy her machine direct from her website AND her recipe book.
My mom is an amazing cook. She has always said the mark of a good cook is one that can take a base recipe and "doctor" it to your unique flavor palette. I have learned a lot of great cooking techniques from her and its my goal to showcase both what I have learned from her, Ali Maffucci, Giada de Laurentiis, Michael Symon and several other bloggers/chefs who literally make magic in the kitchen. I also like to hit up various speciality spice shops and markets throughout Houston to pick up new and weird flavors to turn home kitchen my delicious laboratory. It's my hope to inspire you go on a similar culinary journey!
I have been spiralizing my vegetables for only 1.5 months and it's honestly addicting. Seeing your veggies turn into magical little noodles before your eyes will make you never want to chop/eat your vegetables the same way again. The other day, I experimented with a new vegetable (to me anyway): daikon radish. it's a white fleshed radish that has a spicy smell, yet overall mild taste and only has about 6 calories per ounce. Not only is it seriously filling, but it has several enzymes that apparently aid in fat/starch digestion as well as vitamin C, phosphorus and potassium. Bonus points! Now imagine making noodle soup purely out of daikon radish noodles, vs regular udon or wheat based noodles? Get ready for something seriously healthy and tasty and I promise you wont miss your normal noodles!
So on to my recipe. I made chicken miso soup with my beautiful daikon radish noodles. Here's a pic of me spiralizing them! As you can see, you get a decent pile of noodles just from one radish!
Here's the final product. Yes those are children's training chopsticks. I bought them because of the awesome piggie. Don't judge me, oink.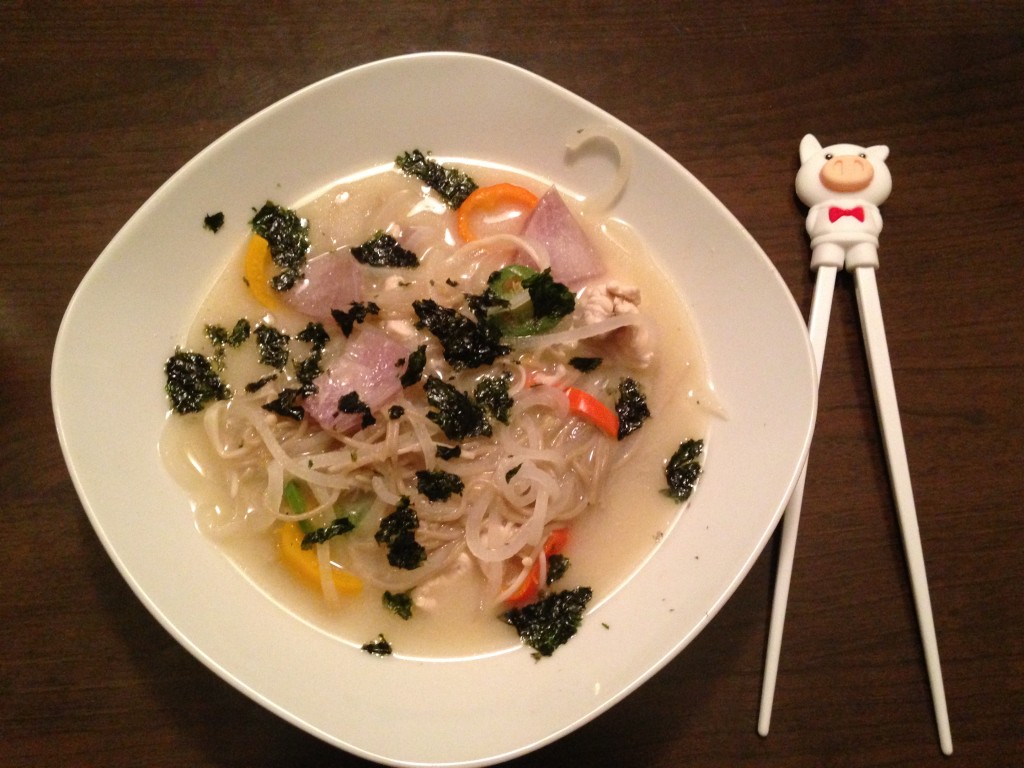 And here's how to make it!
Ingredients (Serves 6-8)
2/3 cup of miso paste
1 cup of warm water (for the miso)
8-10 cups of water for soup
1 large red chili sliced or 1 large jalepeno thinly sliced
1 tablespoon of grated ginger
1 clove of minced garlic
3 green onions
2 chicken breasts thinly sliced
1 daikon radish spiralized with Blade C
2-3 cups of veggies: I used cubed red onion, red/yellow bell peppers and enoki mushrooms. You can use virtually anything you want – snow peas, carrots, zucchini and more!
2-3 strips of seaweed to crumble on top for garnish
Instructions 
Place the miso paste and warm water in a small bowl and stir to combine.
Place the water, chili/jalepeno, ginger and green onions in a large saucepan over high heat and bring to the boil.
Add the chicken and veggies (including your daikon radish noodles) and cook for 3-4 minutes until everything is cooked through.
Stir the miso mixture into the noodle mixture.
To serve, spoon into bowls and top with extra green onions and crunchy seaweed strips.
ENJOY!
Til next time…Happy spiraling!